Dentistry on Main Street
124 Main Street
Toronto, Ontario M4E 2V8
Tel: (416) 699-0620
Sheppard and Yonge
Dental Health Centre
116 Sheppard Ave. West
North York, Ontario M2N 1M5
Tel: (416) 221-9588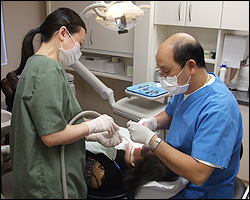 A smile is universally understood and can be a source of confidence as well as aid in speech, digestion and many other aspects of your overall health. An attractive, healthy smile can create a focal point that you can be proud of.

Images will be added as they become available.

We would be pleased to discuss any procedure that you may be considering.

Please Note: Before and after images are offered as examples of results that our team has achieved for our patients. Before any cosmetic dental procedure is considered you should schedule a consultation to ensure that a particular procedure is appropriate to meet your expectation.