Smoky Eggplant Dip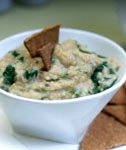 When you're at the farmers' market, be sure to pick up fresh vegetables, including eggplant, spinach and garlic for this delicious smoky eggplant dip. It makes a great healthy snack to enjoy at a BBQ, at the beach or just lounging around the house.

Quick fun fact: Eggplants are technically berries!

Smoky Eggplant Dip
Prep Time : 60 mins
Cook Time : 10 mins
INGREDIENTS
2 large eggplants
1 bunch spinach (1/2 pound)
1 head garlic roasted & mashed
2 tablespoons Lemon Juice
1 teaspoon cumin
1 teaspoon salt
1 tablespoon tahini
1 tablespoon olive oil
INSTRUCTIONS
Preheat oven to 350F for the eggplant.
Slice off the tip of a head of garlic and place in a piece of foil, cover with a dash of sea salt and a 1 teaspoon olive oil. Wrap up and bake on 350F for 1 hour.
Roast the eggplants directly over flame on stove, or in an oven at 350F until the skin blisters and the flesh feels very soft.
Place in a large metal bowl and seal with plastic wrap for 20 minutes or so to allow the skin to loosen.
When the eggplants are cool enough to work with, remove the skin, seeds and cut into small dice.
Wash the spinach and add to a pot with a small amount of water. Cook until wilted.
In a food processor, mix the garlic, lemon juice, cumin, salt, tahini and olive oil together.
In a large bowl, add the spinach mixture to the eggplant and mix well. Add more salt to taste.